Although cost has always been an important factor to consider when investing, there is little doubt that in recent times, consumers have rightly become ever more cost conscious.
Considering this, we thought it would be beneficial to release an update on the general direction of our portfolio costs over the past 3 years.
As many of you are aware, the costs (OCF) of our OEIC fund range, discretionary MPS and Passive MPS solutions are all capped at competitive rates. Unfortunately, we are unable to introduce a similar cap to our PMS portfolios due to platform functionality.
However, our inability to cap the headline rate doesn't mean we are less cost conscious when it comes to our PMS clients. In fact, over 3 years we have reduced the cost of our medium risk portfolio by 29%; a saving that has been passed directly on to advisers and their clients.
Below you can see the gradual decrease of PMS Portfolio 4's net TER, since November 2016.
Based on Old Mutual Wealth Platform Portfolio 4 under charging basis 3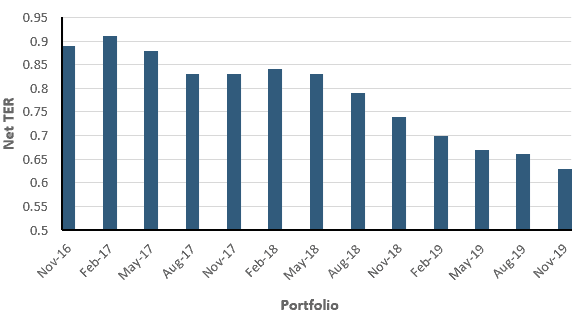 The upcoming changes for Q4 2019 (November) will see another fall in TER across our core portfolios for the PMS, as displayed below;
Based on Old Mutual Wealth Platform portfolios under charging basis 3
| | | |
| --- | --- | --- |
| PORTFOLIO | Aug 2019 Net TER | Nov 2019 Net TER |
| 0 | 0.50% | 0.47% |
| 1 | 0.52% | 0.49% |
| 2 | 0.60% | 0.57% |
| 3 | 0.65% | 0.62% |
| 4 | 0.66% | 0.63% |
| 5 | 0.67% | 0.65% |
| 6 | 0.67% | 0.65% |