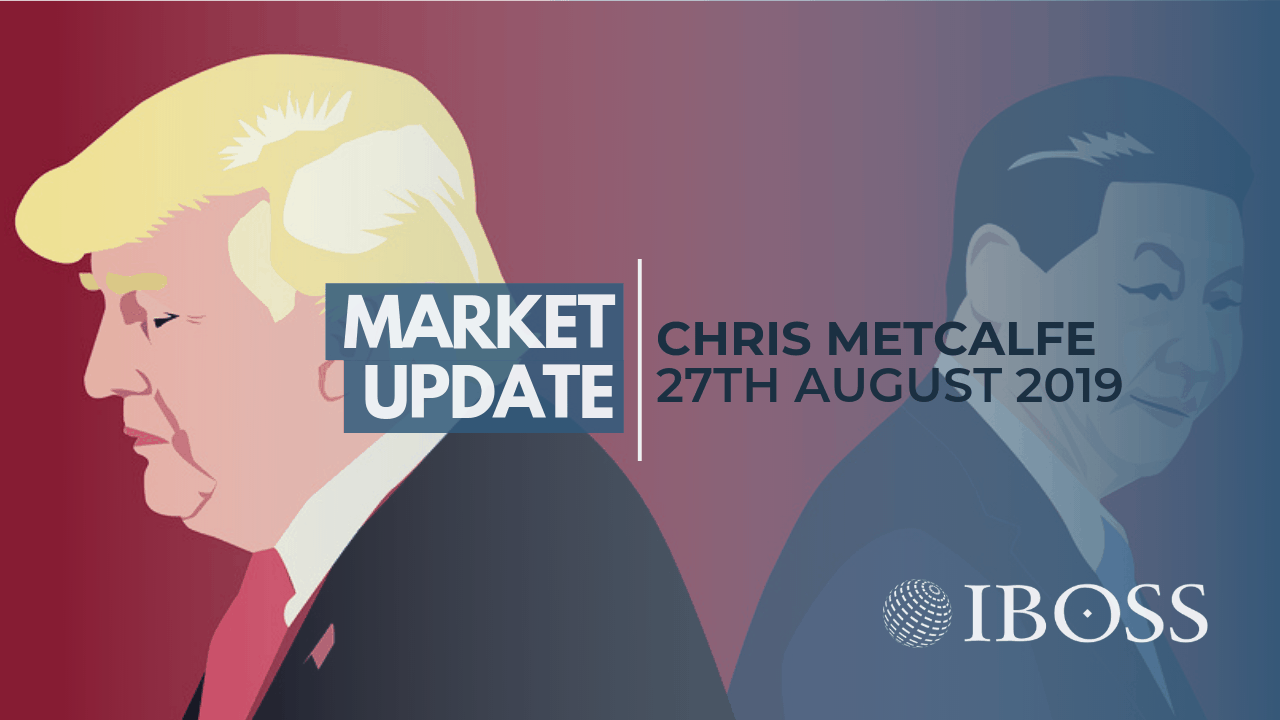 What Happened on Friday?
It is possible that the investment landscape really did change on Friday 23rd August.
At 01.45 GMT China announced retaliatory tariffs against the US to the tune of $75 billion.
The timing seemed, potentially, to be designed to cause the maximum amount of mayhem and, whether it was intentional or not, it triggered a quite extraordinary reaction at both a political and market level.
Not only was China's announcement just before the start of US trading but it was only a couple of hours before Fed Chair Jerome Powell's highly anticipated speech at Jackson Hole, where the trade war would be a key theme.
On top of everything else, Trump was just heading off to France for the G7 meeting where he is more isolated than ever in his economic views and Powell had not given him what he wanted; guaranteed rate cuts.
The President Responds…
What happened next was a series of tweets from the US President signalling counter retaliatory tariffs and a tweet which, a couple of days later, still seems extraordinary. "As usual, the Fed did NOTHING! It is incredible that they can 'speak' without knowing or asking what I am doing, which will be announced shortly. We have a very strong dollar and a very weak Fed. I will work 'brilliantly' with both, and the U.S. will do great," Trump said in a tweet. He added: "My only question is, who is our bigger enemy, Jay Powel (sic) or Chairman Xi?" a truly jaw-dropping question to ask.
The Market Impact – Bonds are Bid
As the US was the only major equity market open it was there, we could see the response to the unfolding events.
Equities were sharply down (for the third time in 15 days), US Treasury's yields returned to their lows and gold moved sharply higher whilst oil sold off aggressively.
Trump and his administration are extremely rattled and fearful of a recession despite the US economy allegedly being "the strongest ever…"
There has apparently been talk of Trump wanting to rotate the Fed Chair to diminish Powell's power.
It is now well known that Trump wants a weaker dollar if that will help him and if ideas such as the mooted currency transaction tax were somehow to come to fruition then we really would have the starting gun fired on global currency wars.
Where do we go from here?
As was clear on Friday night, once again Trump acted without the prior knowledge of his team so if they don't know then how can anybody else?
What we can expect is a continued increase in volatility and no end to the trade wars during his presidency.
Trump might think he has the upper hand on tariffs but what is really worrying him is that the US economy might be in a downturn at the time of the next election.
China can potentially afford to wait this out and Trumps seems to have little ammunition other than more tariffs which are negative for the economy, both for the US and China.
There is also talk of the EU introducing tariffs on US goods and this battle of a potential global trade war hasn't even really got going yet.
We can be certain that if the Europeans act then the US President will come back hard and again everybody will lose; it's the last thing the EU economy needs, particularly embattled Germany.
How do you Invest in this environment?
We continue to be as truly diversified as possible with significant holdings in safe-haven assets.
It may be that the dollar does come off its highs and this would be a short-term boost for Asia and Emerging Market assets, and we retain our slight relative overweight.
We still believe the Central Banks and politicians are bereft of ideas and will drive bond yields into the floor.
Due to the bond risks however, we remain at our shortest duration and highest credit quality.
Gold remains negatively correlated to the equity markets and we expect to continue to hold it, at least until after the next presidential election in the US, and it has served us well for almost a year now.