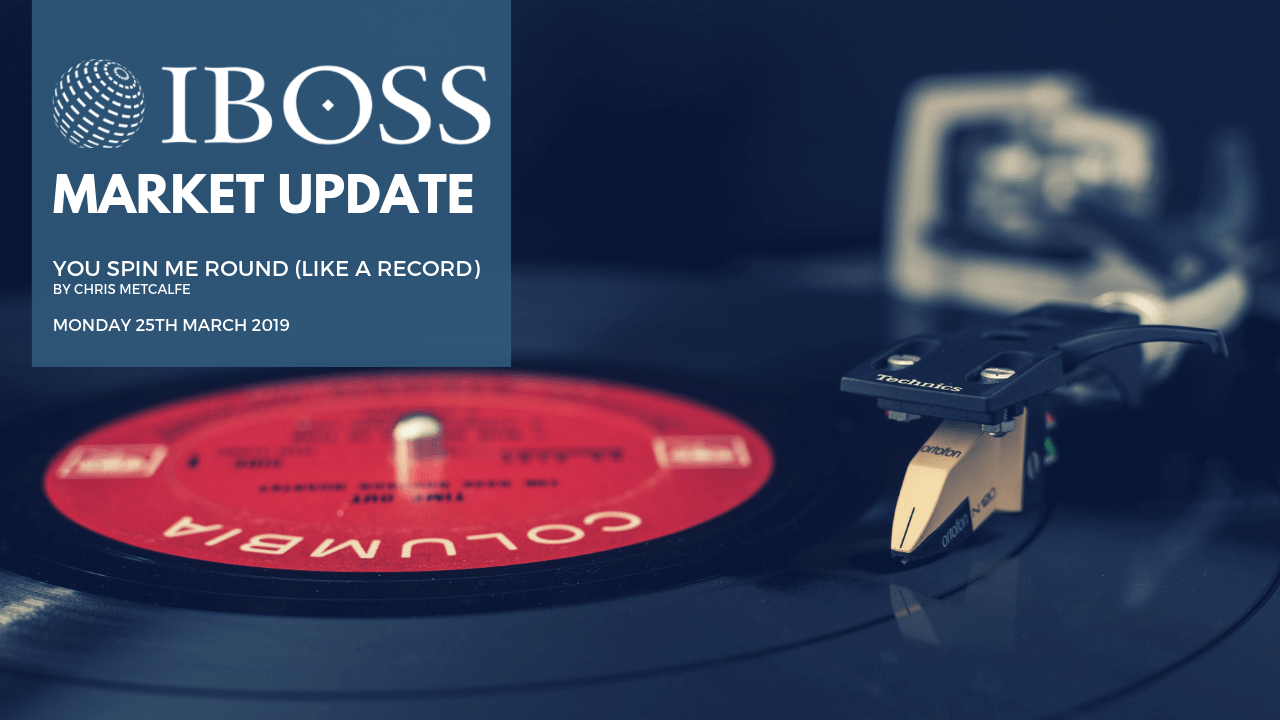 Last week started OK for equity markets, but by the end the bulls were counting down the minutes to the close, so what happened?
On Wednesday (20.03.2019) the Fed more than did its part to perpetuate the bull market, premised on bad economic news is good for equity markets, so that was all fine. The Powell (Fed Chair) of a just a few short months ago is already a distant memory. His comment in October 2018 "that we are a long way from neutral" on interest rates, which spooked markets into thinking we might end up having to look at real fundamentals again, has been replaced with every dovish capitulation phrase imaginable. Balance sheet roll off on auto pilot, remember that? "I think that the runoff of the balance sheet has been smooth and has served its purpose and I don't see us changing that" (December 2018). By February 2019 he was reassuring markets that he would be announcing a plan "soon" to end the roll off and this week he announced it would be stopping in September this year. Thursday's equity markets, especially in the US, were in 'busy as usual' mode but then a deluge of pretty awful economic data from around the globe seems to have made people reappraise how long the super dovish Fed can carry global equity markets. There is not enough time or space to cover all the bad economic data, but one of the catalysts was the German and Eurozone Manufacturing PMIs. At 08.30 UK time the German data came in and it was an eye wateringly bad figure. At 09.00 an almost equally bad number came in for the wider Eurozone and, to add fuel to the fire, at 13.45 the US's own Manufacturing PMI also disappointed.
We already knew the situation in the Eurozone was bad and no amount of jawboning from the surely exhausted ECB chief, Mario Draghi, can change reality. The US on the other hand has looked much stronger and indeed is much stronger, but it doesn't operate by itself. Trump's trade war has hurt sentiment and investment, and the effect of periodic Tweets saying that it's all going to be great have diminished. The trade war is not the main reason (yet) for the US economic woes which appear to be arriving at its door. The global economic cycle is late stage, the debts amassed by the Central Banks are so large as to be incomprehensible to most people and the ammo for fighting the next recession looks inadequate. The dreaded Modern Monetary Policy chicanery is back, touted as a possible solution, but it's no solution to anything except a few book sales and TV interviews from people who should get out less.
So, to summarise Friday's panic selling of equities and buying of bonds, we believe it's a fear by many people that the Central Banks can't do much more to keep fuelling this equity rally and that bond assets yielding anything look a decent bet for the foreseeable future. We wouldn't be surprised to see QE4/5 in the US announced by the end of the year, but that is only for the US. As we have been reiterating for several months now, there is a danger being in the markets but there are also dangers to not being in them. Nobody should underestimate the ability of new schemes being dreamed up to support markets and then there are also areas of the world and assets where values are already reasonable. It should also be remembered that drawdowns such as Q4 2018, and even just last Friday, are actually more normal than the periods where, due to versions of QE, volatility is nailed to the floor and markets inexorably rise.
Germany Manufacturing Purchasing Managers Index (PMI)
1st August 2011 – 22nd March 2019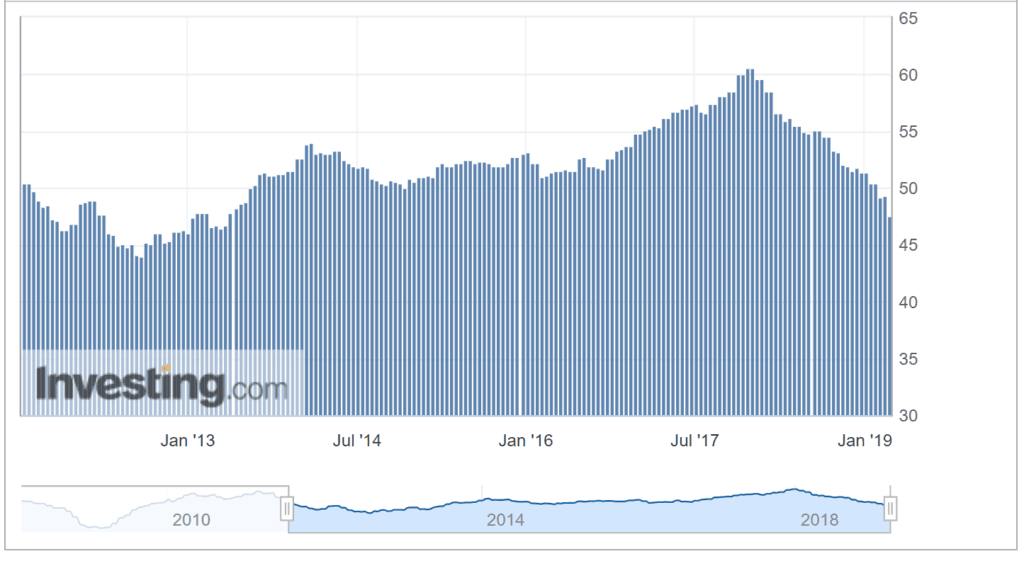 Eurozone Manufacturing Purchasing Managers Index (PMI)
1st August 2011 – 22nd March 2019