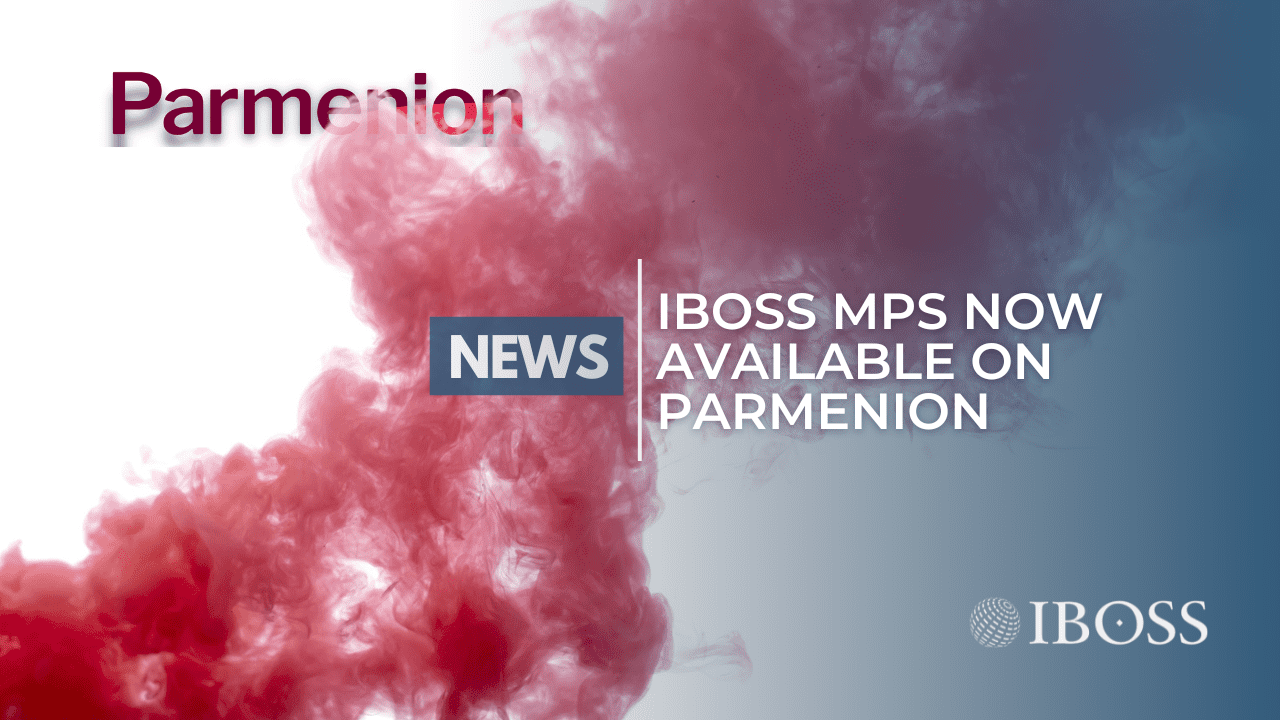 It is with great pleasure that we can officially announce the IBOSS discretionary Managed Portfolio Service (MPS) range is now available on Parmenion, who were voted 'UK Platform of the Year 2022' at Schroders UK Platform Awards.
32 model portfolios from IBOSS will be fully integrated with Parmenion's market-leading technology and will span a range of risk grades so advisers can find a high-quality portfolio matched to each client's appetite for risk, as well as their preferred investment style.
Parmenion CEO Martin Jennings commented:
"We are very pleased to welcome IBOSS Asset Management portfolio to the Parmenion platform. We have been working hard to expand our offering in recent months, adding numerous top-quality wealth firms' DFM solutions to our stable for advisers to choose from. This latest addition of 32 high-calibre investment portfolios from IBOSS will help us on our mission to become advisers' first choice platform in a competitive space."
Rebecca Anscombe, Head of Operations and Systems at IBOSS said:
"We are delighted to be able to offer our diversified approach to discretionary fund management via the Parmenion adviser platform, allowing more customers to access our industry-leading service. Our Managed Portfolio Service is run by long-standing employees who have an abundance of experience and expertise, bringing together the award-winning IBOSS proposition for advisers and their clients."
If you would like more information regarding our discretionary range or to discuss any specific queries, then please do not hesitate to contact a member of our Business Development Team:
Kevin Morrison – 07891814345 / kevin@ibossltd.co.uk
Tracey Atkin – 07719327524 / tracey@ibossltd.co.uk
Dawid Lesniowski – 07907 574921 / dawid@ibossltd.co.uk
This communication is designed for professional financial advisers only and is not approved for direct marketing with individual clients. These investments are not suitable for everyone, and you should obtain expert advice from a professional financial adviser. Investments are intended to be held over a medium to long term timescale, taking into account the minimum period of time designated by the risk rating of the particular fund or portfolio, although this does not provide any guarantee that your objectives will be met. Please note that the content is based on the author's opinion and is not intended as investment advice. It remains the responsibility of the financial adviser to verify the accuracy of the information and assess whether the OEIC fund or discretionary fund management model portfolio is suitable and appropriate for their customer.
Past performance is not a reliable indicator of future performance. The value of investments and the income derived from them can fall as well as rise, and investors may get back less than they invested.
We provide the DFM MPS as both distributor and manufacturer. Details of our target market assessment can be found in our compliance investment procedures, available upon request. Each fund will be assessed independently, but it is highly unlikely that any one fund held in our portfolio will meet the target market in isolation—detail of why the inclusion collectively will be suitable is included within our research.
The DFM MPS Core range was launched 1 November 2018; other ranges have since been added. The past performance figures include simulated figures which are based on the actual performance figures/asset allocation/fund selection of the Portfolio Management Service research provided by IBOSS Limited, from 31 October 2008. The simulated past performance is not a reliable indicator of future performance.
The DFM MPS performance and displayed underlying portfolio charge is produced using the preferred share classes, this may differ from platform to platform and is shown net of fund fees only, they do not incorporate platform costs, adviser's client fee or DFM service charge.
IBOSS Asset Management is authorised and regulated by the Financial Conduct Authority. Financial Services Register Number 697866.
IBOSS Limited (Portfolio Management Service) is a non-regulated organisation and provides model portfolio research and outsourced white labelling administration service to support IFA firms, it is owned by the same group, Kingswood Holding Limited who own IBOSS Asset Management Limited.
Registered Office is the same: 2 Sceptre House, Hornbeam Square North, Harrogate, HG2 8PB. Registered in England No: 6427223.
IAM 100.3.23