We are delighted to inform you that our discretionary Managed Portfolio Service and OEIC Fund Range have been rated by Defaqto for 2021.
Defaqto is an independent financial information and technology business, helping consumers, financial institutions and financial advisers make better informed decisions.
Unlike consumer reviews, Defaqto ratings are based on facts, not opinions.
What ratings have our propositions achieved?
Managed Portfolio Service (MPS)
The IBOSS discretionary MPS range on platform has been 5 Star rated, this shows it provides one of the highest quality offerings on the market. Star Ratings look at the features and benefits of a product or propositions, rather than solely focusing on cost.
In addition, the Core MPS has also achieved 5 Diamonds, meaning it offers an excellent proposition relative to the peer group across charges and other fund manager features including the business, team and investment process.
The portfolios within the Core and Sustainable ranges have also been risk scored by Defaqto.
OEIC Fund Range
The IBOSS OEIC Fund Range has been 4 Diamond rated as a fund family, meaning they offer a good proposition relative to the peer group across charges, performance, risk shape and other features.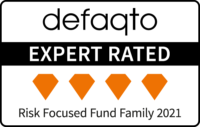 Each IBOSS fund has also been rated individually within the Multi-Asset Returned Focused category. IBOSS fund 2 and 4 have been 5 Diamond rated, offering an excellent proposition relative to the peer group across charges, accessibility, performance and other features. IBOSS fund 1 and 6 have both achieved 4 Diamonds.
What are Defaqto Diamond Ratings?
To help advisers, intermediaries and their clients make better informed decisions Defaqto provide Diamond Ratings.
A Diamond Rating reflects the performance of a managed fund or fund family. They give the fund or fund family an independent rating of 1 to 5 based on a detailed and well-structured scoring process, allowing advisers and other intermediaries – and their clients – to see instantly where they sit in the market in terms of:
Fund performance
Competitiveness in other key areas such as cost, scale and manager longevity
What are Defaqto Star Ratings?
Defaqto Star Ratings provide an expert assessment so that you can see the quality of products or propositions at a glance, based on the comprehensiveness of the features and benefits it offers.
They rate every product on the market, on a scale of 1 to 5 stars. A 1 Star product covers the basics, whereas a 5 Star product is one of the most comprehensive on the market.
1 Star – A basic product, with a low level of features and benefits.
2 Star – A product typically offering a below average range of features and benefits.
3 Star – A standard product providing an average level of features and benefits.
4 Star – A product with a good level of features and benefits.
5 Star – An excellent product with a comprehensive range of features and benefits.
Defaqto rates the product or policy, not the provider. The ratings are analysed daily and updated to reflect any product or policy changes throughout the year.
This communication is designed for Professional Financial Advisers only and is not approved for direct marketing with individual clients.
It does not purport to be all-inclusive or contain all of the information which a proposed investor may require in order to make a decision as to whether to invest or not. Nothing in this document constitutes a recommendation suitable or appropriate to a recipient's individual circumstances or otherwise constitutes a personal recommendation.
Past Performance is no guarantee of future performance. The value of an investment and the income from it can fall as well as rise and investors may get back less than they invested. Risk factors should be taken into account and understood including (but not limited to) currency movements, market risk, liquidity risk, concentration risk, lack of certainty risk, inflation risk, performance risk, local market risk and credit risk.
IAM 41.1.21