Market fluctuations continue to be driven by inflationary factors and the necessitated central bank and government policy response. Importantly, however, we have begun to see these responses vary from country to country. For example, the US has seen early signs of inflation ticking down, whilst the UK and many European countries continue to see double-digit inflation figures. China, however, seems to have no such inflationary concerns, with its headline rate hovering between 2.1% and 2.8%.
A Weakening Dollar
For investors, one of the most significant market responses to US inflation potentially peaking has been the weakening of the dollar relative to other global currencies (sterling included). As the chart below demonstrates (fig 1), this is the first month of the year where the dollar has weakened significantly relative to the pound, though the weakness in the dollar started in earnest on the 27th of September.
Monthly Dollar Price in GBP (fig 1)
This hugely impacts investor returns, even over a relatively short time, as US stocks bounced circa 6%, but sterling investors received a capital loss of 0.5% (27.09.22 – 01.11.22). In short, the dollar's weakness erased all capital gains in US equities for October.
Conversely, investors were rewarded for holding a more diverse range of developed market equities as US equities underperformed other developed markets, and small-cap stocks considerably outperformed their larger peers (fig 2).
Developed Market Performance – Large/ Small Cap 27.09.22 – 01.11.22 (fig 2)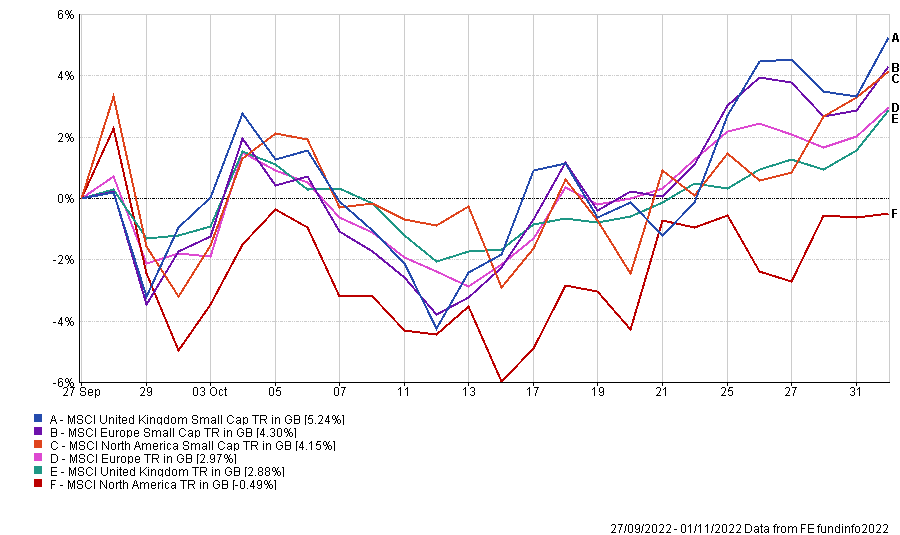 Fixed Income
There has been a similar change in fortune for fixed income assets, as gilts posted a positive return of almost 4% for the month, whilst sectors with more considerable dollar exposure struggled on a relative basis. We have had several meetings with bond managers in recent weeks, and whilst the short-term outlook for these assets remains uncertain, there will be opportunities from here. It is also worth noting that many of these bond managers suspect the 12th of October to be a pivotal point. For those more interested in the fixed income landscape, we urge you to watch our latest webinar on demand with Janus Henderson Strategic Bond manager Jenna Barnard.
Bond managers are not prone to outward signs of extreme optimism, but that is what we are currently seeing. There appears to be more significant concern by many in the high-yield space, which is not an area we will be explicitly investing in any time soon.
Emerging Markets
Emerging Markets have seen mixed fortunes, and whilst the situation in China is changing almost daily, October saw Chinese equities fall nearly 20% through October but rally 17% in the first seven days of November on the back of the potential for loosening of COVID-19 restrictions. This aggressive reversal demonstrates how quickly things can change in China.
Elsewhere, Latin America, India, and South Africa all produced positive returns, leaving the EM index marginally down for the month.
In summary, October saw a wide dispersion of returns across assets and within sectors. Whilst many investors made positive returns, those with overweight dollar-denominated assets saw those returns somewhat suppressed. As ever, we contend diversification remains essential, and investors need to be conscious of the increased risks associated with investing using the rear-view mirror.
This communication is designed for professional financial advisers only and is not approved for direct marketing with individual clients. These investments are not suitable for everyone, and you should obtain expert advice from a professional financial adviser. Investments are intended to be held over a medium to long term timescale, taking into account the minimum period of time designated by the risk rating of the particular fund or portfolio, although this does not provide any guarantee that your objectives will be met. Please note that the content is based on the author's opinion and is not intended as investment advice. It remains the responsibility of the financial adviser to verify the accuracy of the information and assess whether the OEIC fund or discretionary fund management model portfolio is suitable and appropriate for their customer.
Past performance is not a reliable indicator of future performance. The value of investments and the income derived from them can fall as well as rise, and investors may get back less than they invested.
Data is provided by Financial Express (FE). Care has been taken to ensure that the information is correct but FE neither warrants, neither represents nor guarantees the contents of the information, nor does it accept any responsibility for errors, inaccuracies, omissions or any inconsistencies herein. Please note FE data should only be given to retail clients if the IFA firm has the relevant licence with FE.
IBOSS Asset Management is authorised and regulated by the Financial Conduct Authority. Financial Services Register Number 697866.
IBOSS Limited (Portfolio Management Service) is a non-regulated organisation and provides model portfolio research and outsourced white labelling administration service to support IFA firms, it is owned by the same group, Kingswood Holding Limited who own IBOSS Asset Management Limited.
Registered Office is the same: 2 Sceptre House, Hornbeam Square North, Harrogate, HG2 8PB. Registered in England No: 6427223.
IAM 321.11.22