As we approach the halfway point of 2023, it's fair to say that the year, so far, has been incredibly volatile, yet the performance of asset classes has been relatively muted. Property, cash and fixed income have primarily moved sideways with varying degrees of volatility, whilst equities remain marginally positive for the year, albeit with periods of significant drawdown.
Despite these subdued returns at a headline level, we have seen an increasing dispersion of returns between the best and worst-performing regions, funds and stocks. Generally speaking, this has favoured a diverse geographical exposure.
Asset Class Performance | 30/12/2022 – 15/05/2023*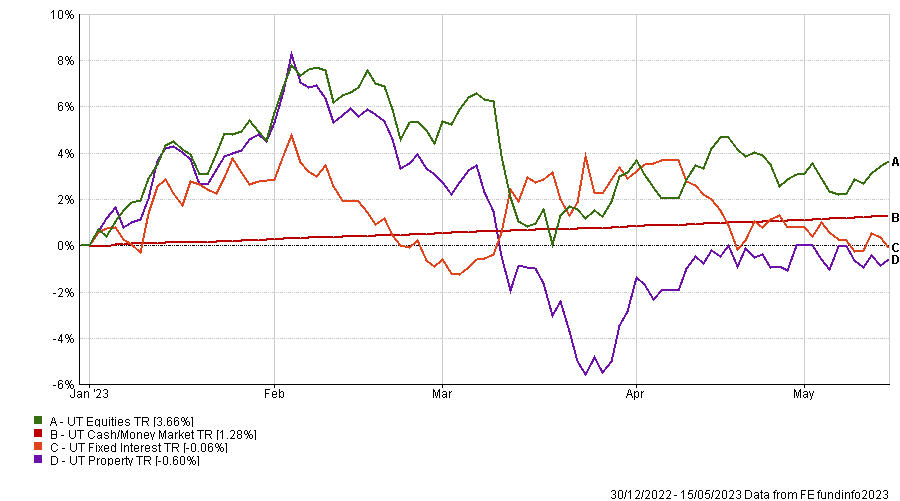 The recent strength in equity markets has surprised many, considering the various geopolitical and economic issues ranging from the continued debate regarding the US Debt ceiling, stubbornly high inflation, and the perpetual risk of recession.
We have made some more detailed comments on geographical performance below, but it is still worth noting that the high volatility levels across regions mean these can change relatively dramatically in a short time.
US
At the time of writing, certain large US technology names continue to perform counterintuitively well in a period of rapidly rising US interest rates.
Despite the resilience of these growth behemoths, the US equity market, more broadly, has underperformed other developed markets. For example, Europe, Japan and the UK outperformed US equities by circa 5.4%, 1.4% and 1.8%, respectively.
Emerging Markets
By far, the biggest loser of 2023, so far, has been an allocation to emerging markets, with the two most prominent countries in EM (India and China) down slightly over 4% for the year.
In stark contrast, however, not all emerging markets are similarly performing, and Latin American equities have been rallying strongly since the 23rd of March, posting a return of 13%. Rather fortuitously, the bulk of these returns coincided with recent IBOSS portfolio changes, where we looked to broaden many of the portfolio's exposure to Latin America through various changes in the emerging market funds held.
Japan
Japanese growth also surprised on the upside. GDP rose 0.4% last quarter, the first gain since last summer. Increased optimism on the economy, particularly now that inflation seems finally to be trumping deflation, together with hopes that Japan is finally becoming more shareholder friendly, have been behind the equity market's strong performance this year.
While Japanese equities are looking more attractive now than for some time, part of this year's strong gains have just reflected a weakening of the yen. Only if the holdings have been currency hedged, has one benefited fully. The yen remains a wild card for Japanese stocks, particularly with the current uncertainty over how quickly the BOJ will abandon its super-easy monetary policy.
Global Equity Performance | 30/12/2022 – 15/05/2023*
*Information is short term in nature to demonstrate performance over a specific time period. Please contact IBOSS for long term data, including since launch and/or 5 years.
This communication is designed for informational purposes only and is not intended as investment advice. These investments are not suitable for everyone, and you should obtain expert advice from a professional financial adviser. Please note that the content is based on the author's opinion at the time of writing/publish date. Our views and opinions regarding certain investment themes and topics can alter over time as the macroeconomic background changes and other industry news is made publicly available, this is not intended as investment advice.
Past performance is not a reliable indicator of future performance. The value of investments and the income derived from them can fall as well as rise, and investors may get back less than they invested.
Data is provided by Financial Express (FE). Care has been taken to ensure that the information is correct but FE neither warrants, neither represents nor guarantees the contents of the information, nor does it accept any responsibility for errors, inaccuracies, omissions or any inconsistencies herein. Please note FE data should only be given to retail clients if the IFA firm has the relevant licence with FE.
IBOSS Asset Management is authorised and regulated by the Financial Conduct Authority. Financial Services Register Number 697866.
Registered Office: 2 Sceptre House, Hornbeam Square North, Harrogate, HG2 8PB. Registered in England No: 6427223.
IAM 157.5.23