We are pleased to announce that from November 1st, 2022, we will be launching a new Passive Portfolio 8. This will be the ninth portfolio to be made available within the Passive MPS range and will contain the highest exposure to equities of, at launch, 90%.
Passive Portfolio 8 will be available on your platform of choice from our list of available MPS platform providers. Should you not be able to find it following launch date, please contact a member of our team who will be able to facilitate its availability to you.
The addition of Portfolio 8 to our Passive range has been led by adviser demand to cover as many risk outcomes as possible and complement Portfolio 8 within our Core range, which has been available since 2008.
Passive MPS
In keeping with the existing passive portfolios, Portfolio 8 contains primarily passive and index funds, with a minimum of 15 and a maximum of 30 funds in each portfolio, and an 8% maximum holding per passive fund.
The chart below highlights each portfolio's progressively increasing equity content and incorporates our new Passive Portfolio 8.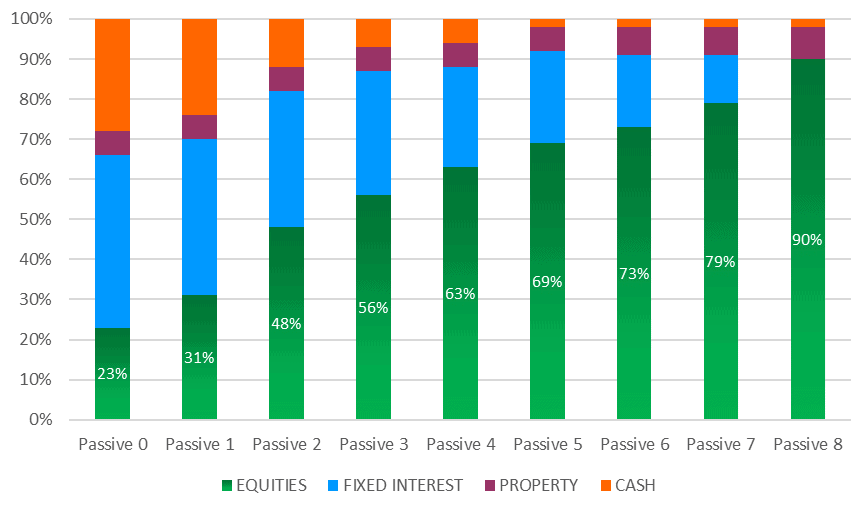 Our Senior Investment Analyst, Michael Heapy, said "Given the popularity of our passive range this year and the feedback from our adviser firms, we decided it would be desirable for clients and advisers to expand our passive range. Covering a wide variety of client requirements is important to us, and adding a Passive Portfolio 8 will only increase this."
OCF portfolio caps
We will continue to manage the existing portfolios (0-6) across the four MPS ranges under their current allocated OCF cap.
Whilst Portfolio 8 in the Passive range will, for the time being, operate just outside of the range's 0.14% cap, currently at 0.17%, we believe the price remains competitive considering the higher equity content.
Discover more
Updated factsheets, solution comparison and range overview documents will include Passive Portfolio 8 once they are made available in mid-November and can be found on our website.
If you would like any more information regarding the new portfolio or our MPS range in general, please do not hesitate to contact a member of our team.
This communication is designed for informational purposes only and is not intended as investment advice. These investments are not suitable for everyone, and you should obtain expert advice from a professional financial adviser. Please note that the content is based on the author's opinion at the time of writing/publish date. Our views and opinions regarding certain investment themes and topics can alter over time as the macroeconomic background changes and other industry news is made publicly available, this is not intended as investment advice.
Past performance is not a reliable indicator of future performance. The value of investments and the income derived from them can fall as well as rise, and investors may get back less than they invested.
We provide the DFM MPS as both distributor and manufacturer. Details of our target market assessment can be found in our compliance investment procedures, available upon request. Each fund will be assessed independently, but it is highly unlikely that any one fund held in our portfolio will meet the target market in isolation—detail of why the inclusion collectively will be suitable is included within our research.
The DFM MPS Core range was launched 1 November 2018; other ranges have since been added. The past performance figures include simulated figures which are based on the actual performance figures/asset allocation/fund selection of the Portfolio Management Service research provided by IBOSS Limited, from 31 October 2008. The simulated past performance is not a reliable indicator of future performance.
The DFM MPS performance and displayed underlying portfolio charge is produced using the preferred share classes, this may differ from platform to platform and is shown net of fund fees only, they do not incorporate platform costs, adviser's client fee or DFM service charge.
IBOSS Asset Management is authorised and regulated by the Financial Conduct Authority. Financial Services Register Number 697866.
Registered Office: 2 Sceptre House, Hornbeam Square North, Harrogate, HG2 8PB. Registered in England No: 6427223.