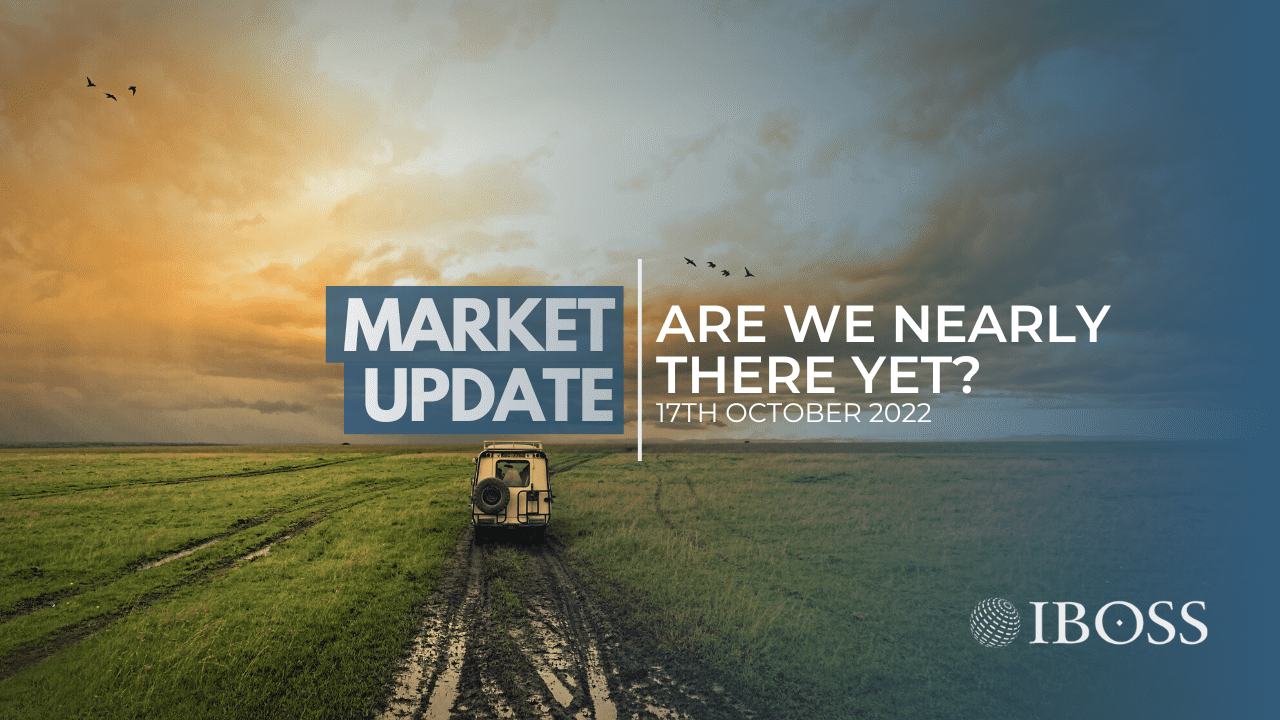 The most significant factor driving asset prices over the last three months has been stubbornly high and, in many cases, still rising inflation.
In fact, US Core inflation reached a new forty-year high at the beginning of October. Actual inflation is extremely important to everybody, whether they have assets or not, but the reaction function of central banks makes it particularly important to investors. Any indication that central banks, but mainly the US Federal Reserve, will either stop raising interest rates or, even better, start to reduce them again will likely cause most risk assets to rise in value.
So, along with inflation numbers, we potentially need to see jobless claims rise and just signs of general fatigue in the economy. The central banks have a lamentable track record of understanding movements in inflation, so based on history, they will likely get it wrong again. This means markets could turn very quickly if the data changes.
What we have experienced over the last three decades is that sell-offs in risk assets have become shorter but, in some cases, more pronounced. At the same time, we have seen the time it takes for assets to recover get shorter as well, for example, the brutal sell-off and subsequent bounce at the beginning of the pandemic.
The UK – a land of opportunity?
The UK vote to leave the EU perplexed a great many people and caused some overseas investors to reconsider investing in UK assets. Whilst that vote and the ensuing outcome were seen very differently by observers of widely divergent opinions, the events surrounding the content, timing and communication of the mini-budget seemed to bring about almost universal bewilderment. The immediate reaction was multi-decade lows for the pound and spiralling yields (prices down) for the UK gilt market.
At the time of writing (14/10/2022), this complicated situation is still playing out, but we would make an observation; whenever assets, be they currencies, bonds, equities or individual geographies, are talked of in terms of being uninvestable, it is often a good time to at least consider buying them. The reverse is also true; when an asset is at its highest value in decades or, in some cases, ever. It might feel like a comfortable time to buy when everybody is talking an asset up and flows into it are strong, but it can often turn out badly in the end.
UK assets of almost all types are very much out of favour, and we think that brings about a significant degree of opportunity over the medium term.
Europe's winter of discontent
Europe is undergoing a period of significant economic disruption brought on by high inflation. The two main factors for this are Putin's war with Ukraine, which has caused a severe energy supply issue, and secondly, the inability of the ECB and the Bank of England to anticipate the inflation that their respective monetary policies helped incubate.
Unlike the US, where much of the economic data is still relatively resilient, there are numerous signs of an economic slowdown already underway. European (including the UK) equities have underperformed considerably against the likes of North America, Latin America and India. Still, there is a lot of bad news now in the prices of many of these assets. While the winter may well be a tough one on many fronts, valuations will often anticipate what's expected to transpire further into the future. Any signs of a more positive outlook than feared for Europe could see a positive re-rating of risk assets.
The capitulation of the Bond Market?
Many parts of the fixed-income (bond) market are experiencing their worst year in history. The realisation that inflation is not transitory and the end of the 'lower for longer' interest rate period created an unprecedented backdrop for this asset class, with sovereign bonds such as our own gilt market fairing particularly badly. We feel that, as with some other assets, there is now so much negativity in the prices of these assets that the risk/return profile actually looks relatively attractive.
Historically, but with the noticeable exception of the last eighteen months, bonds have often performed well in times of equity market stress. We feel this relationship might well re-establish itself, to some degree, in the coming quarters, and many bonds are now looking better value than they have for several years.
This communication is designed for professional financial advisers only and is not approved for direct marketing with individual clients. These investments are not suitable for everyone, and you should obtain expert advice from a professional financial adviser. Investments are intended to be held over a medium to long term timescale, taking into account the minimum period of time designated by the risk rating of the particular fund or portfolio, although this does not provide any guarantee that your objectives will be met. Please note that the content is based on the author's opinion and is not intended as investment advice. It remains the responsibility of the financial adviser to verify the accuracy of the information and assess whether the OEIC fund or discretionary fund management model portfolio is suitable and appropriate for their customer.
Past performance is not a reliable indicator of future performance. The value of investments and the income derived from them can fall as well as rise, and investors may get back less than they invested.
Data is provided by Financial Express (FE). Care has been taken to ensure that the information is correct but FE neither warrants, neither represents nor guarantees the contents of the information, nor does it accept any responsibility for errors, inaccuracies, omissions or any inconsistencies herein. Please note FE data should only be given to retail clients if the IFA firm has the relevant licence with FE.
IBOSS Asset Management is authorised and regulated by the Financial Conduct Authority. Financial Services Register Number 697866.
IBOSS Limited (Portfolio Management Service) is a non-regulated organisation and provides model portfolio research and outsourced white labelling administration service to support IFA firms, it is owned by the same group, Kingswood Holding Limited who own IBOSS Asset Management Limited.
Registered Office is the same: 2 Sceptre House, Hornbeam Square North, Harrogate, HG2 8PB. Registered in England No: 6427223.
IAM 281.10.22