The first half of 2021 has brought an abundance of unlikely statistics, but the fact that it was the best H1 for combined global equities in over two decades is probably the one that stands out the most.
The MSCI Growth Index, which as my colleague Chris Rush often points out is now a proxy for the Information Technology Index, has suffered two bouts of selling off. The reaction to the sell-off, which finished in mid-May, was the same as April's fall, i.e. the index went up almost every day for the following six weeks (and counting)(fig.1).
There has not been a period lasting more than a few trading sessions during the last six months when both value and growth have fallen in tandem. So, the answer to the often asked question about whether it is the time for growth or value has been clear, you have wanted both.
We had positioned the range of IBOSS investment solutions on the premise of needing both styles of investment, and we think this trend will continue until the Central Banks, led by the Fed, actually do something rather than talking about thinking about doing something.
MSCI World & Growth Vs. Value > 1st January – 1st July 2021 (fig.1)*
The Clash of the Titans
The relative underperformance of China against America particularly, as well as most other countries in the world, has been stunning (fig.2).
The Chinese authorities continue to rein in their behemoth tech companies, many of which had morphed into multifaceted and often non-regulated platforms offering a wide range of services. This aggressive approach to regulation is in stark contrast to the US (and the EU), who, despite pockets of resistance, have done little to nothing to curb the power of Google, Facebook and Amazon etc. There is now a persistent fear that other sectors will come under similar government scrutiny.
From a pure investing point of view, uncertainty is the most significant source of angst. Once a company has been 'visited', and after whatever remedial action is deemed necessary, they can potentially move forward and hopefully go back to growing their businesses. At the time of writing, there is yet more breaking news from China after it appears to have blocked Didi from app stores after apparent violations of personal information usage.
Despite the ongoing negative headlines, relative valuations for parts of the Chinese market versus the US continue to make China increasingly attractive. In the meantime, the US tech firms continue to benefit from the lower for longer US interest rate policy, lack of anti-trust legislation and many people still working from home and not getting out much. The question everybody needs to know is, are their valuations supported if one or more of these positive factors turn negative?
MSCI North America Vs. MSCI China > 3 Year data to 1st July 2021 (fig.2)*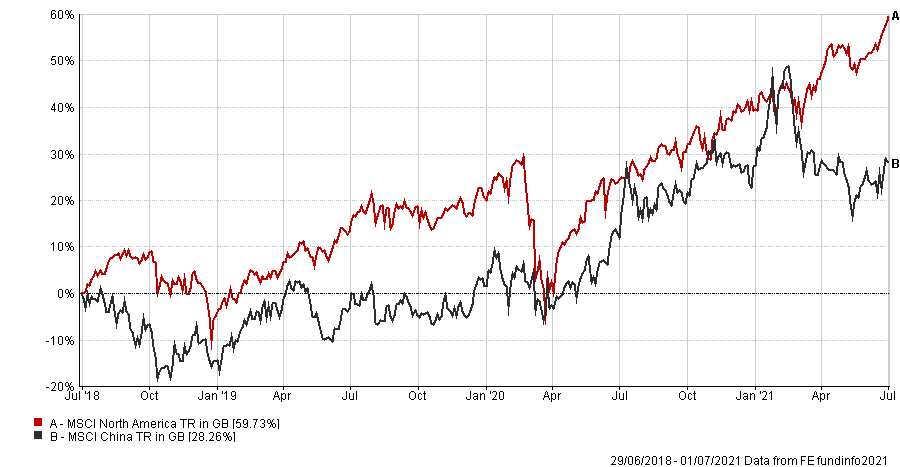 The Friendless World of Fixed Income
At the end of 2020, we predicted that many, if not all, fixed income sectors would produce negative returns in 2021 (fig.3). On this basis, we shortened our duration and increased the overall credit quality (ex sovereigns) across the IBOSS range.
As we come into the second half of the year, our view remains the same.
Whilst it is somewhat frustrating to see the high yield sector grind out small positive returns, its shape is the same as the MSCI World and therein lies the problem. If equity markets do sell-off, they will likely take much of the high yield sector down with them. For now, then we have to sit tight and accept we are in a period of less opportunity in the fixed income world. We are not the only people to have reached this conclusion, but until something changes in global central bank policy, we think the risk-return profile will remain relatively weak.
IA Fixed Income Sectors > Year to Date to 1st July 2021 (fig.3)*
*Information displayed is short term in nature to demonstrate performance over a specific time period. Please contact IBOSS for long term data, including since launch and/or 5 years.
This communication is designed for Professional Financial Advisers only and is not approved for direct marketing with individual clients. It does not purport to be all-inclusive or contain all of the information which a proposed investor may require in order to make a decision as to whether to invest or not. Nothing in this document constitutes a recommendation suitable or appropriate to a recipient's individual circumstances or otherwise constitutes a personal recommendation.
Past Performance is no guarantee of future performance. The value of an investment and the income from it can fall as well as rise and investors may get back less than they invested. Risk factors should be taken into account and understood including (but not limited to) currency movements, market risk, liquidity risk, concentration risk, lack of certainty risk, inflation risk, performance risk, local market risk and credit risk.
Data is provided by Financial Express (FE). Care has been taken to ensure that the information is correct but FE neither warrants, neither represents nor guarantees the contents of the information, nor does it accept any responsibility for errors, inaccuracies, omissions or any inconsistencies herein. Please note FE data should only be given to retail clients if the IFA firm has the relevant licence with FE.
IAM 235.7.21