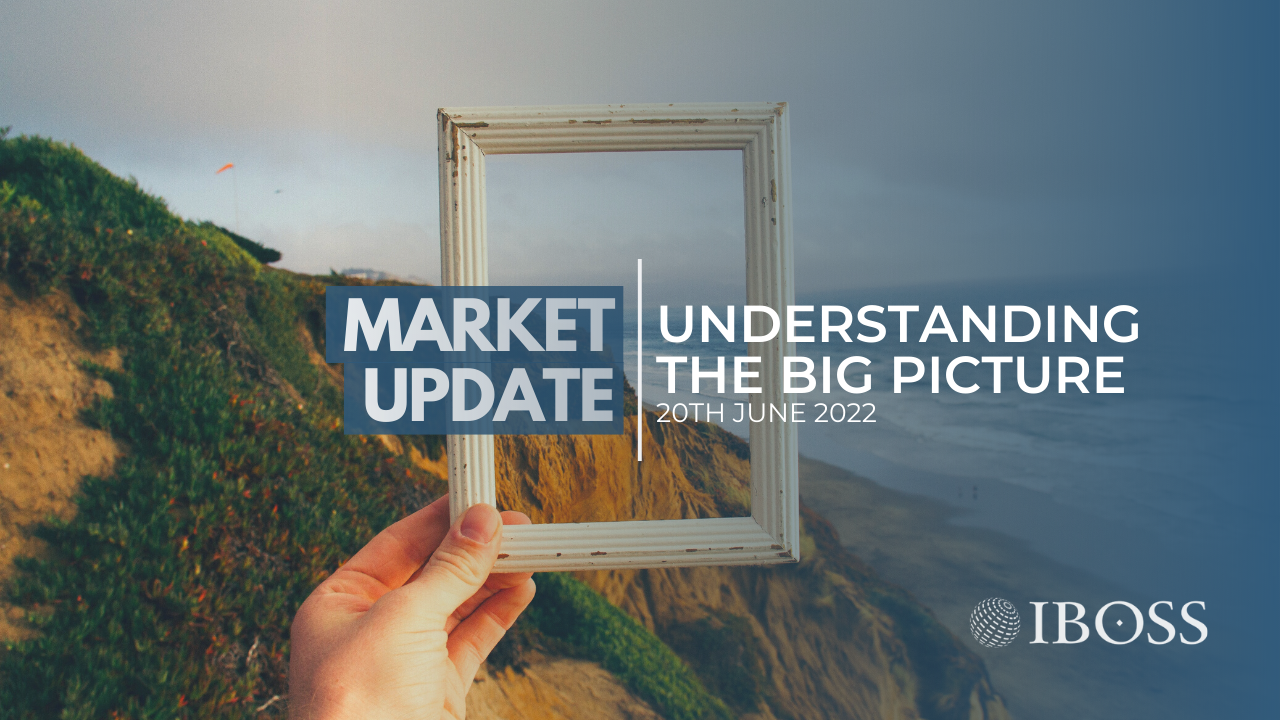 The inevitable 'nobody could have seen this coming' message had begun
We have been highlighting, for some time now, that the 'lower for longer' era regarding interest rates is definitively over. The period should have been brought to a close much earlier, but unfortunately, the global central banks led by the US Fed failed to read signals that inflation would be a serious problem.
Although the US might have led this inflation blindness, perhaps two of the ECB's Christine Lagarde comments sum the situation up best. Only a few days ago, she said, "We are in a situation that is vastly different from the United States, and we are actually perfectly on time and not behind the curve". Many people, including ourselves, would take issue with that perspective. In her press conference on 9th June, she further opined that it wasn't possible to foresee this inflation now enveloping much of the global economy.
Unfortunately, the outcome for the populations of the US, the Euro area and the UK, with the inability to correctly interpret the data is that we now have high and sticky inflation, and we are all going to have to live with the consequences.
The big picture
Fed chair Powell's inflation epiphany on the 30th November 2021, where he said, "it is time to retire the word transitory", ushered in a grudging acceptance of persistent inflation and an associated new interest rate paradigm.
Since then, we have seen growth stocks and crypto-assets fall significantly.With the latest US inflation data coming in, yet again, above the consensus forecast, there seems every reason to believe that these assets in particular will remain under pressure. Put simply, assets that did well up to 30th November 2021 will likely continue to struggle, and assets that had been held back in the 'lower for longer' era should continue to outperform.
Many column inches will continue to be filled with discussions about 'when will the next recession start?', 'when will inflation peak?' and 'what is any given central bank's terminal rate?'. Whilst parts of such discussions might be of interest, we feel that speculation of specific data points is of little value to investment managers.
What is important, however, is to understand the big picture factors which move asset prices over the medium to longer term.
Emerging Markets & China
The chart below (fig 1) demonstrates the performance of various IA sectors following the more supportive comments from the Chinese government.
This is another period we are looking at closely as emerging markets face different headwinds to them of developed markets. Of course, there is always the chance that the various EM governments do something that is seen negatively by markets, but it is difficult to argue against the diversification and potential valuation benefits of exposure to these areas.
Equity Sector Performance from 15/03/2022 – 16/06/2022 (fig 1)*

These circumstances have occurred historically, and over the period highlighted in fig 2, we saw a reversal in many of the recent trends we've all become used to, as North American equities underperformed a wide range of other geographies and styles over an 8 year period.
The Lost Years between the .COM Crash and the GFC – 01/01/1990 – 11/06/2022 (fig 2)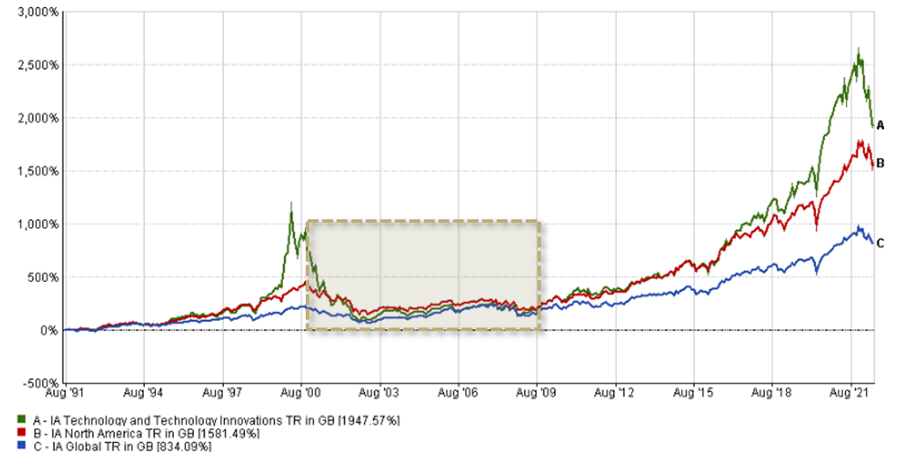 Finally, it is worth noting that we continue to live in extraordinary market circumstances, as both bonds and equities remain negative in 2022 (fig 3) for only the second time in recent history.
As ever, we believe that diversification is essential, particularly in a market environment that looks starkly different from recent years.
Discrete Yearly Returns – Fixed Income & Equity (fig 3)


For those of you who would like a more comprehensive update, please find our latest Market Update Webinar on demand here. Alternatively, please contact your IBOSS BDM for any updated performance tables you require.
*Information on this chart is short term in nature to demonstrate performance over a specific time period. Please contact IBOSS for long term data, including since launch and/or 5 years.
This communication is designed for professional financial advisers only and is not approved for direct marketing with individual clients. These investments are not suitable for everyone, and you should obtain expert advice from a professional financial adviser. Investments are intended to be held over a medium to long term timescale, taking into account the minimum period of time designated by the risk rating of the particular fund or portfolio, although this does not provide any guarantee that your objectives will be met. Please note that the content is based on the author's opinion and is not intended as investment advice. It remains the responsibility of the financial adviser to verify the accuracy of the information and assess whether the OEIC fund or discretionary fund management model portfolio is suitable and appropriate for their customer.
Past performance is not a reliable indicator of future performance. The value of investments and the income derived from them can fall as well as rise, and investors may get back less than they invested.
Data is provided by Financial Express (FE). Care has been taken to ensure that the information is correct but FE neither warrants, neither represents nor guarantees the contents of the information, nor does it accept any responsibility for errors, inaccuracies, omissions or any inconsistencies herein. Please note FE data should only be given to retail clients if the IFA firm has the relevant licence with FE.
IBOSS Asset Management is authorised and regulated by the Financial Conduct Authority. Financial Services Register Number 697866.
IBOSS Limited (Portfolio Management Service) is a non-regulated organisation and provides model portfolio research and outsourced white labelling administration service to support IFA firms, it is owned by the same group, Kingswood Holding Limited who own IBOSS Asset Management Limited.
Registered Office is the same: 2 Sceptre House, Hornbeam Square North, Harrogate, HG2 8PB. Registered in England No: 6427223.