February's overall equity market performance had much in common with January's, but the reasons were very different.
To quickly recap, the year got off to a hopeful start based on positive vaccine news, a wave of economic optimism, and central banks reiterating their commitment to low-interest rates that anchored bond yields near record lows. The month finished with US stimulus talks yet again stalling, a realisation that in Europe (ex UK) the vaccine rollout was chaotic and painfully slow. Then we topped it all off with the absurd trading around stocks such as GameStop Corp.
In the end global stocks, except for Asia, finished firmly in the red (fig 1).
Global Equity performance through January (fig 1)*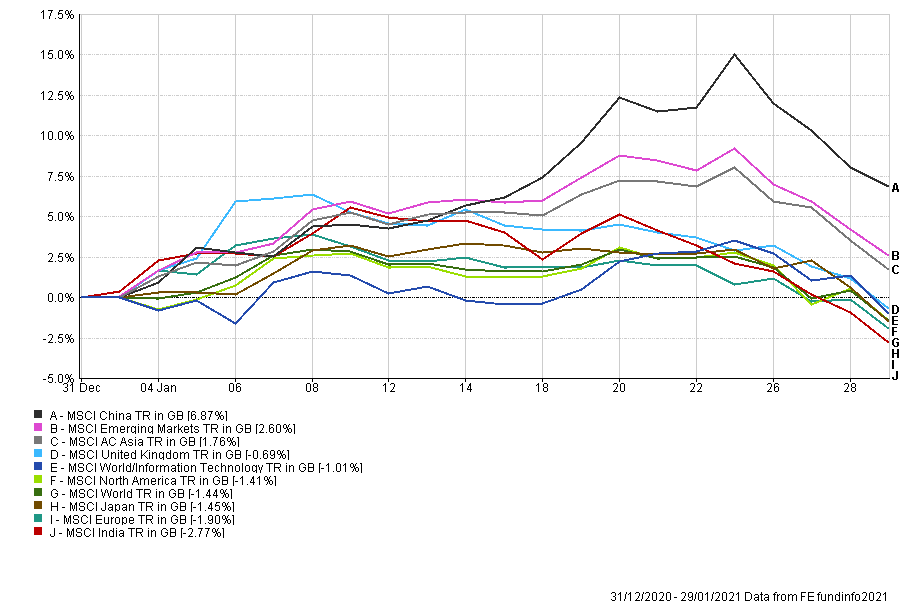 Global Equity performance through February*
February commenced with renewed hope on the vaccines' efficacy and a very efficient rollout in the US and UK. Asia had not been affected as severely in the first place, and China continued to lead the world economically.
We then moved into an explosive new phase for the market; all built on inflation expectations. Sovereign yields rose dramatically with the global benchmark, the 10 Year Treasury, briefly hitting 1.60% (fig 2).
Concerns of a new Taper Tantrumesque scenario made for rapid repricing of the bond markets, in fact, a rapid repricing of everything.
United States 10-Year Bond Yield 1 Year Overview to 28/02/2021 (fig 2)*
Source: uk.investing.com
The new debate has become; what the central banks will do if inflation increases to a level that they find unacceptable?
The reason for this issue moving centre stage is the record-breaking rise in commodity prices, everything from lumber, to copper, to food and oil regaining pre-pandemic levels. So, while much of the mainstream media focuses on the continuing pandemic and the speed of different countries reopening, prices in many goods have moved to the primary supply and demand dynamic. With fiscal stimulus and governmental support it is difficult to argue against the inflation narrative, and to confirm the IBOSS Investment Team are firmly in the 'inflationista' camp.
Growth to Value Period – 28/10/2020 to 26/02/2021 (fig 3)*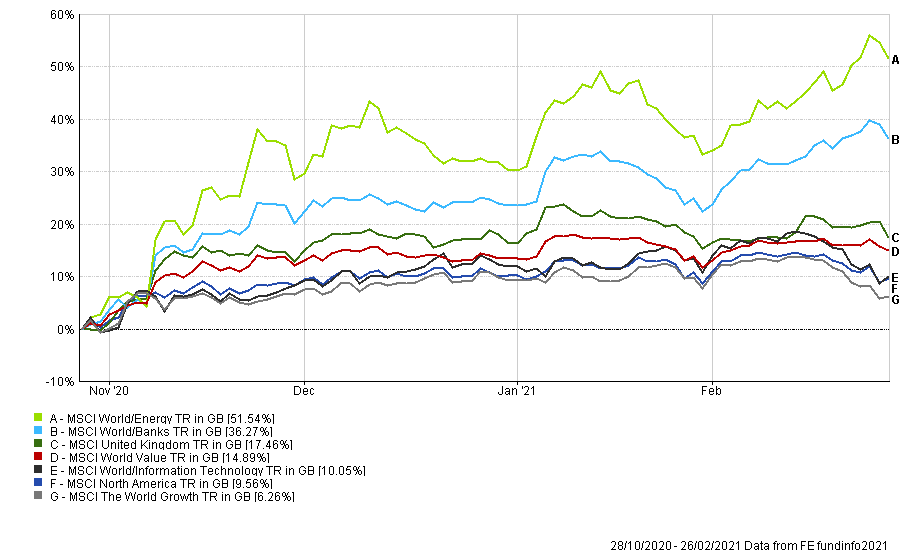 Year to Date – 31/12/2020 to 26/02/2021 (fig 4)*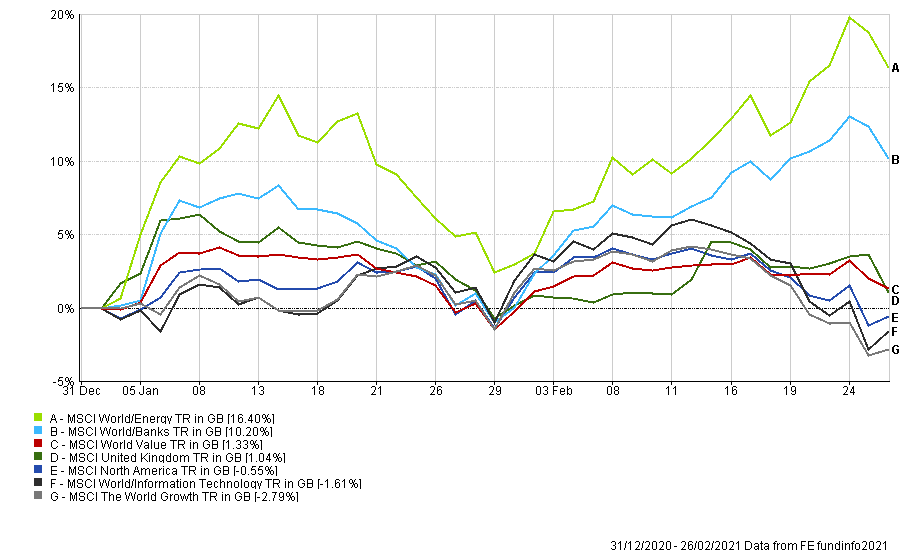 The Pivot from Growth to Value
February brought a continuing move higher in banks and energy, which helped value to outperform growth once again (fig 4). Expectations for interest rates rise in the US have been brought forward to 2022, and whilst these kinds of forecasts are of limited use, it indicates how the current data is perceived.
Many growth stocks and tech shares have benefitted from the working-from-home phenomenon. That coupled with the previous super low-interest rate outlook for many years and conditions really could not have been more supportive. Momentum, recency bias and the buy the dip investors made sure that any valuation stumbles in shares such as Tesla were quickly reversed.
In Sterling terms, the MSCI North America, World Growth and World/Information Technology sectors are all in negative territory for 2021.
The Future is unwritten
Growth stocks, including many of the tech darlings, are more susceptible to rising interest rates as their future earnings are harder to predict.
February highlighted that it is no longer beyond the bounds of possibility that fundamentals, and even actual profit, might come back to the fore. Many growth stocks look more vulnerable right now than they have for some time. In parallel, longer-dated bonds with record low yields have already suffered substantial losses, but there could be much more to come. For the record, we are currently holding bonds with a record short duration (interest-rate risk), which is likely to become even shorter in the coming months.
The Outlook
After years of growth outperforming value, there is evidence building that the rotation is more than a head fake for risk assets. There have now been a few months of value outperforming, but it doesn't mean growth's supremacy is necessarily over (fig 3). At the same time, it doesn't mean that if current conditions persist, we can't see further outperformance from the likes of banks and energy stocks. We also feel that the most significant risks to client capital are in the previous winner's stretched valuations.
There is a saying that goes, "Generals always fight the last war." We still maintain that the end of October 2020 issued a new investment landscape. The effective vaccines, pent up spending demand, global fiscal largess, and supply constraints augmented by lack of investment mean March 2021 looks nothing like March 2020. It seems improbable to us that the same investments which outperformed up to October 2020 will be the winners in 2021.
*Information displayed is short term in nature to demonstrate performance over a specific time period. Please contact IBOSS for long term data, including since launch and/or 5 years.
This communication is designed for Professional Financial Advisers only and is not approved for direct marketing with individual clients. It does not purport to be all-inclusive or contain all of the information which a proposed investor may require in order to make a decision as to whether to invest or not. Nothing in this document constitutes a recommendation suitable or appropriate to a recipient's individual circumstances or otherwise constitutes a personal recommendation.
Past Performance is no guarantee of future performance. The value of an investment and the income from it can fall as well as rise and investors may get back less than they invested. Risk factors should be taken into account and understood including (but not limited to) currency movements, market risk, liquidity risk, concentration risk, lack of certainty risk, inflation risk, performance risk, local market risk and credit risk.
Data is provided by Financial Express (FE). Care has been taken to ensure that the information is correct but FE neither warrants, neither represents nor guarantees the contents of the information, nor does it accept any responsibility for errors, inaccuracies, omissions or any inconsistencies herein. Please note FE data should only be given to retail clients if the IFA firm has the relevant licence with FE.
IAM 98.3.21