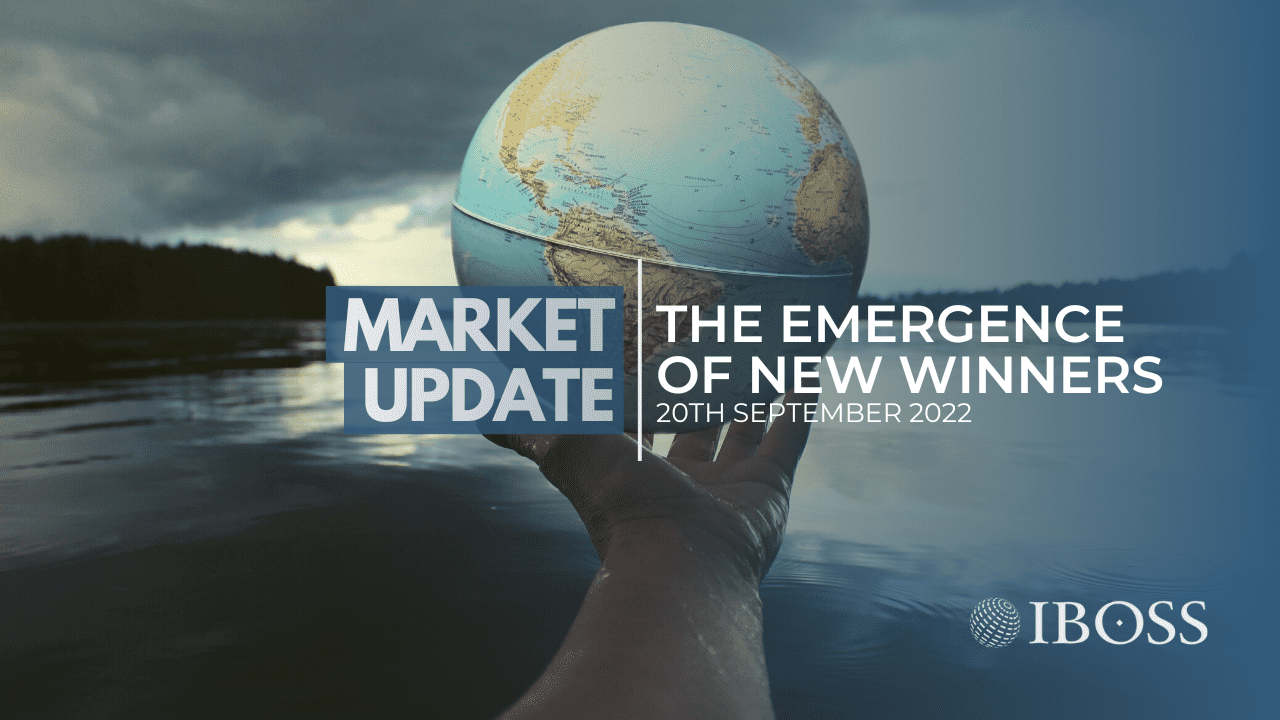 During August, equity returns were broadly positive, with the outperformers being several emerging markets, most noticeably Latin America and India. In contrast, the two most significant underperformers, which probably comes as no surprise, were the UK and Europe.
Since the 15th of March 2022, when China indicated that the worst of its regulatory crackdown might be over, we have seen the developing world in ascendency over the developed one. This is despite a dollar that continues to strengthen against nearly every other currency in the world. This divergence in equities has so far continued into September (fig 1).
World Equity Markets – August 2022 (fig 1)*

King Dollar $
So, after nearly nine months since the US Federal Reserve woke up to the realities of an inflationary environment they helped engender, the dollar's rise continues unabated. This continues to be extremely helpful to UK investors, as the chart(s) show (fig 2).
US Dollar Relative to Pounds Sterling – August 2022 (fig 2.1)*
IA Global Sector in UK Sterling & US Dollar – August 2022 (fig 2.2)*

Bond Capitulation Part 2
It appeared in June that the global bond market might have reached capitulation, the point where the worst news is in the price, and the bottom might be in. Two months later, it's clear that for most fixed income sectors, any supposition that we had reached the bottom was premature. The two sectors that are bucking the loss-making trend are historically the two riskiest, Global Emerging Market Debt and High Yield (fig 3).
At a time when, for obvious reasons, much of the investing world is of a risk-averse mindset, it seems it would be a brave move to add to these sectors. People have talked about zombie companies for years that wouldn't have survived in a higher-rate environment, yet the default rate remains low as we start to live through one.
What is absolutely clear is that UK Gilts continue to be one of the worst investments across all asset classes, anywhere in the world. It's getting hard to imagine any more bad news, that we are not already aware of, taking gilts lower, but somehow the news does indeed keep getting worse, and the losses keep mounting.
Global Fixed income – August 2022 (fig 3)*
Commodity Sector, it's a bit of an Animal
When investing in commodities, it is essential to understand from the manager what to expect in different market conditions. The fund we use in this space is JPM Natural Resources, run by an experienced and well-resourced team. Even so, the fund, whose remit is to invest at least 80% of the fund's assets in the shares of companies worldwide who engage in the production and marketing of commodities, is extremely volatile compared to other global equities.
In August alone, the fund swung from -4% to +9% before finishing up 5.31% against a broad basket of global equities that ended up 0.68% (fig 4). We think the base case for the sector and this fund remains strong, and we must accept the volatility.
The global underinvestment in commodities didn't start in February with Putin's invasion of Ukraine, and even if that war ends, shortages will remain for many years, if not decades. The JPM fund has remained our best performing fund over the last twelve months by a considerable margin.
JPM Natural Resources Vs. IA Global August 2022 (fig 4)*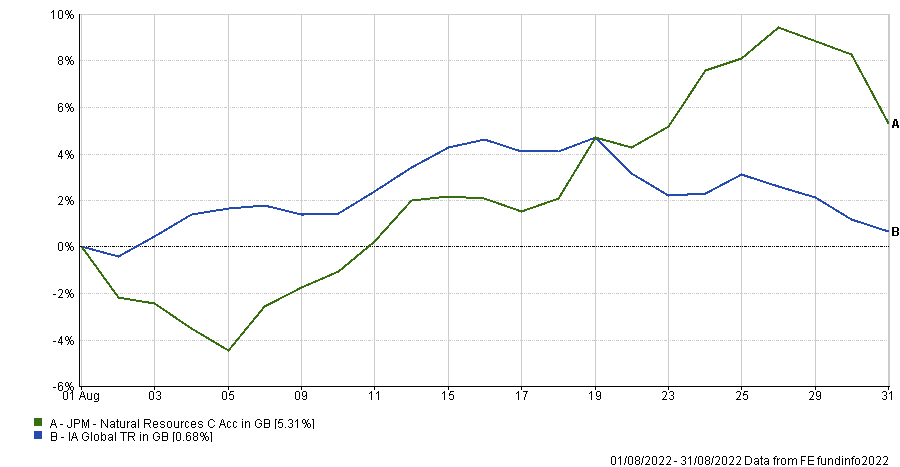 Now what?
We dubbed the first eleven months of 2021 'maximum greed', when Powell was blissfully unaware of the rapidly building inflationary pressure. We think that now is potentially the time for 'maximum humility'. Across IBOSS portfolios, this manifests itself in ever more diversified investments.
The global macro backdrop for much of the developed world is deteriorating; that much is relatively clear. What is less clear is the timeline of the various central bank's reaction functions. Bond markets may well have much of the bad news priced in, but if the central banks cannot tame inflation quickly enough, then maybe not.
Many emerging markets remain unloved, with China possibly even less popular than the UK. Still, we expect the Chinese government to act aggressively to stop the sputtering growth engine from stalling altogether. Many countries and regions that have been unloved for the past few years, for example, Latin America, now look to have more positive factors going for them than the ones that have done well, such as the US.
We have increasingly warned about investing using the rear-view mirror, but because the era of 'lower for longer' was such a protracted one, it is hard for many investors to contemplate a changing of the guard for equity markets. Of course, there is always the risk the central banks will blink, and in that case we would no doubt see a 'rip ya face off' rally in stocks. However, in our opinion, we don't think they know what they are doing, which in turn makes it very difficult for anybody else to know either.
*Some information displayed may be short term in nature to demonstrate performance over a specific time period. Please contact IBOSS for long term data, including since launch and/or 5 years. Past performance is not a reliable indicator of future performance, please refer to our important information for a full list of risk warnings.
This communication is designed for professional financial advisers only and is not approved for direct marketing with individual clients. These investments are not suitable for everyone, and you should obtain expert advice from a professional financial adviser. Investments are intended to be held over a medium to long term timescale, taking into account the minimum period of time designated by the risk rating of the particular fund or portfolio, although this does not provide any guarantee that your objectives will be met. Please note that the content is based on the author's opinion and is not intended as investment advice. It remains the responsibility of the financial adviser to verify the accuracy of the information and assess whether the OEIC fund or discretionary fund management model portfolio is suitable and appropriate for their customer.
Past performance is not a reliable indicator of future performance. The value of investments and the income derived from them can fall as well as rise, and investors may get back less than they invested.
Data is provided by Financial Express (FE). Care has been taken to ensure that the information is correct but FE neither warrants, neither represents nor guarantees the contents of the information, nor does it accept any responsibility for errors, inaccuracies, omissions or any inconsistencies herein. Please note FE data should only be given to retail clients if the IFA firm has the relevant licence with FE.
IBOSS Asset Management is authorised and regulated by the Financial Conduct Authority. Financial Services Register Number 697866.
IBOSS Limited (Portfolio Management Service) is a non-regulated organisation and provides model portfolio research and outsourced white labelling administration service to support IFA firms, it is owned by the same group, Kingswood Holding Limited who own IBOSS Asset Management Limited.
Registered Office is the same: 2 Sceptre House, Hornbeam Square North, Harrogate, HG2 8PB. Registered in England No: 6427223.
IAM 252.9.22