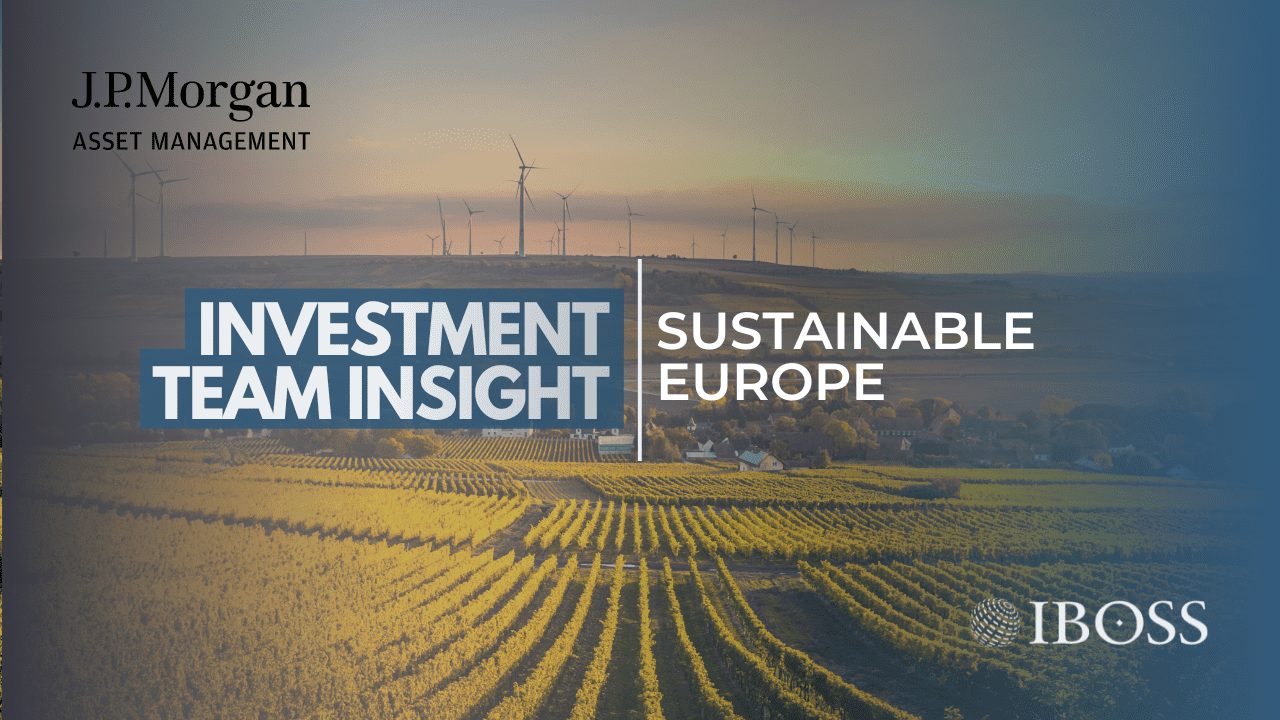 Europe are the front runners when it comes to the standards for sustainable/ESG investing from a global perspective, so with that in mind, there's no surprise that there is a vast amount of funds from which we can pick when constructing our Sustainable MPS portfolios.
Considering the European appetite for change, it will come as no surprise that changes to standards and reporting are a frequent occurrence. So much so, that fund managers and advisers need to be constantly assessing and implementing new standards for clients.
Our allocation to Europe in the IBOSS Sustainable MPS ranges from 3% in portfolio 1 to 8% in portfolio 7, and with a 6% weighting in our most popular portfolio; portfolio 4.
For the purposes of this blog, we are going to focus on the JPM Europe (ex-UK) Sustainable Equity fund, which is held across all seven of our Sustainable MPS portfolios.
Recent Performance
Many sustainable offerings have suffered over recent months as growth assets have underperformed their value peers since the end of November 2021. Nevertheless, the JPM fund has fared relatively well in what has undoubtedly been a more challenging environment for funds with a sustainable mandate.
The fund aims to select the best-in-class companies from across a wide range of sectors. This methodology helps to provide broad and diversified exposure to the European market—a factor which has helped significantly over the recent period.
Why we chose the fund
Like many European sustainable/ESG funds, the JPM team start with exclusions from an industry and stock level. Fossil fuels, gambling, tobacco, weapons, and adult entertainment are amongst the usual culprits. Following these exclusions, they then look to identify sustainable leaders from both a financial perspective and from an ability to facilitate change.
The team at JPM then engage on an ongoing basis with companies on material issues. As a larger financial institution, we feel that JPM can have an outsized impact in this regard with potentially better access to management teams and, ultimately, strong stewardship over the assets they hold.
For more detail and a behind the scenes look at the fund, we asked the JPM team to share their current approach and strategy for investing sustainably in Europe…
JPM Insights

The Sustainable investing space has changed hugely since we launched our first European Sustainable strategy (the pan-European Lux SICAV) back in 2016. Some things are getting easier, and some are harder. The biggest challenge right now is the availability of data (which has improved a lot but still isn't where we would want it to be).

One of the biggest changes we've seen, driven by the current market environment, is the oil & gas landscape. We've seen a giant shift in EU energy policy. Over the past few years, the focus had evolved to be about cost and climate, now, the EU must reconcile three competing objectives: cost, greenery, and security.

Although a lot of the conversation has been around oil and gas, we're seeing an acceleration of renewables plans. Higher oil prices mean that the renewables space also becomes more viable. It also strengthens the case for investment in energy efficiency, something that benefits companies we own in the capital goods sector.

We currently have exclusions covering most oil and gas names, although, it will be interesting to see how the sector evolves in the coming years. Big oil's market share in renewable power development is just 1% today, their EU taxonomy eligible capex is now at about 10%, by 2030 there are forecasts that could be at 50%. There's no doubt that these integrated oil names could become part of the solution, but they still have a long way to go before being investable for us.

For now, Finnish company Neste is our only holding in the oil & gas sector. They are a refiner, but they are leading the charge on the development and manufacture of biofuels from recycled materials, and so we would regard them as a transition stock.

By Tom Bradley-Flannagan, JPM Investment Specialist for the International Equites Group.
This communication is designed for professional financial advisers only and is not approved for direct marketing with individual clients. These investments are not suitable for everyone, and you should obtain expert advice from a professional financial adviser. Investments are intended to be held over a medium to long term timescale, taking into account the minimum period of time designated by the risk rating of the particular fund or portfolio, although this does not provide any guarantee that your objectives will be met. Please note that the content is based on the author's opinion and is not intended as investment advice. It remains the responsibility of the financial adviser to verify the accuracy of the information and assess whether the OEIC fund or discretionary fund management model portfolio is suitable and appropriate for their customer.
Past performance is not a reliable indicator of future performance. The value of investments and the income derived from them can fall as well as rise, and investors may get back less than they invested.
IBOSS Asset Management is authorised and regulated by the Financial Conduct Authority. Financial Services Register Number 697866.
IBOSS Limited (Portfolio Management Service) is a non-regulated organisation and provides model portfolio research and outsourced white labelling administration service to support IFA firms, it is owned by the same group, Kingswood Holding Limited who own IBOSS Asset Management Limited.
Registered Office is the same: 2 Sceptre House, Hornbeam Square North, Harrogate, HG2 8PB. Registered in England No: 6427223.
IAM 190.7.22