Following an extensive review, we believe it is appropriate to change the benchmark and name of the Equity portfolio.
This document will cover the rationale as to why we felt these changes are necessary. It is important to note that there will be no changes to the portfolio's structure, management, or risk and that this is purely a change in name and benchmark. If you have any further queries, please contact a team member who will be able to give you further assistance.
| | | |
| --- | --- | --- |
| | Previous | New |
| Portfolio Name | Portfolio Equity | Portfolio 8 |
| Benchmark | IA Global | IA Flexible Investments |
Benchmark asset allocation
The chart below highlights the MPS Equity portfolio's asset allocation against the proposed benchmark (IA Flexible) and the previous benchmark (IA Global).
The proposed benchmark alteration's primary reason comes from the geographical asset allocation of the portfolio's current benchmark. The IA Global benchmark has a circa 51.5% weighting in US equities. We are conscious that irrespective of our view on the asset, we would never allow any portfolio to have over half of its assets invested in a single geography.
The more diverse nature of the IBOSS Equity portfolio has meant that the product's success or failure has had more to do with US equities' performance, i.e., if US equities underperform, then the portfolio would perform well and vice versa. Our view is that such a binary outcome is unhelpful to clients and us when reviewing the portfolio's relative success or failure. Over many years of attribution analysis, we have increased our belief in the benefits of diversification in all aspects of portfolio construction.
Regional asset allocation as at 31/03/2021 (fig.1)

The chart also demonstrates that the proposed portfolio has more regional similarities with the IA Flexible managed sector. There are, of course, differences, but the remit of the Equity portfolio allows us to flex the target asset allocation to be overweight or underweight these geographies – rather than contend with a permanent and unavoidable underweight, as with the previous benchmark.
Portfolio correlation
The portfolio has a high correlation with the Flexible managed sector over multiple years, further demonstrating suitability. The higher equity content will mean that the Equity (8) portfolio is likely to be more volatile than the IA Flexible sector.  It is worth noting that correlation, as captured by R squared, only measures the direction and not the magnitude of an investment's relative movement.
Discrete Calendar Year Correlation 2009-2020 (fig.2)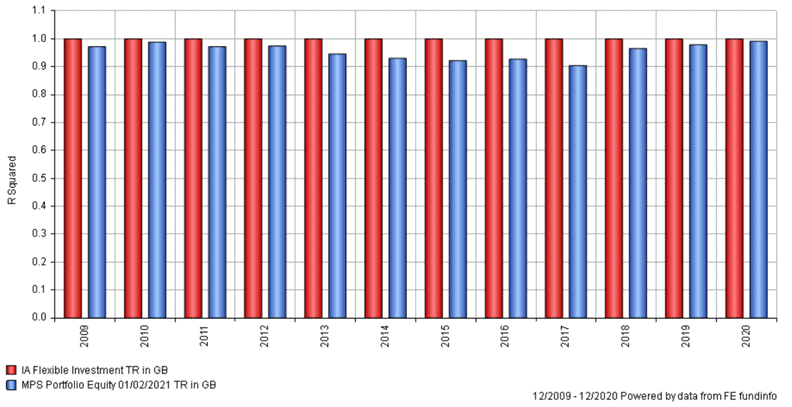 Portfolio aim and name change
We initially launched the portfolio to provide a multi-asset offering with a higher equity content than MPS 6. With the recent introduction of MPS 7, we thought it was likewise appropriate to change the Equity portfolio's name to MPS 8 to reflect the progressively increasing equity content across the full IBOSS range.
The chart (fig.3) demonstrates the high-level asset allocation of each MPS Core portfolio (data accurate at 01.02.2021)
Equity & Fixed Income allocation across MPS Core (01.02.2021) (fig.3)

This communication is designed for Professional Financial Advisers only and is not approved for direct marketing with individual clients.
Past Performance is no guarantee of future performance. The value of an investment and the income from it can fall as well as rise and investors may get back less than they invested. Risk factors should be taken into account and understood including (but not limited to) currency movements, market risk, liquidity risk, concentration risk, lack of certainty risk, inflation risk, performance risk, local market risk and credit risk.
Data is provided by Financial Express (FE). Care has been taken to ensure that the information is correct but FE neither warrants, neither represents nor guarantees the contents of the information, nor does it accept any responsibility for errors, inaccuracies, omissions or any inconsistencies herein. Please note FE data should only be given to retail clients if the IFA firm has the relevant licence with FE.
IAM 146.4.21